Search Engine Optimization (SEO)
Search Engine Optimization techniques increases website visibility by ranking them high in search engine search rankings. In 2013, there were almost 6 billion Google searches per day worldwide. The fact is, most of your target market uses search engines to search for information regarding your product and services, which makes SEO very profitable for businesses in all industries. Using SEO techniques you can dive targeted traffic to your website of customers and businesses that are ready to buy now. SEO gives small to medium sized businesses to compete against large corporations that have multi-million dollar marketing budgets, at an affordable cost.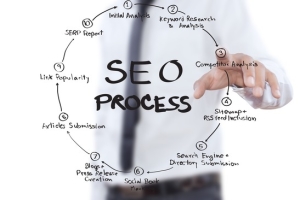 The Process
After you contact us, we will setup a meeting so that we can better understand your business and goals.
Once we have a full understanding of your target market, we will build a strategy so that we can target keywords that your customers are using to search for your products and services.
We will analyze your current website, and implement top search engine SEO best practices so that your website is ready to move up through the search engine rankings.
We will implement expert SEO techniques that will increase search engine rankings, and start driving traffic to your website.
During this process we will continually monitor traffic, and make changes where necessary to increase traffic and improve traffic flow throughout your site.
We will provide monthly reports that will show traffic, keyword rankings, analytics, and keep you up to speed on the work that has been done to reach your goals.
What Should You Expect From SEO?
SEO is a long-term investment, and you should expect to see results after 90 days of SEO implementation. As time goes on, traffic will increase, and your business revenue will increase with it. SEO has the highest ROI of any online marketing technique, which makes this a smart investment by any business in any industry.
Free SEO Consultation
Let us answer your questions regarding SEO, and let us help build an SEO strategy that will increase business revenue for you. Contact us now for a free SEO consultation.
Call us to setup a meeting:    (813) 527-6334
Or
Write us: sales@growtowin.com