by Spence Rogers
I thought it would be fun to write a "Rick Scott Twitter vs. Charlie Crist Twitter" article.  If the Florida governor's election were held today strictly using Twitter, who would be the victor?  Social media is very important and is an indicator of how many votes you can get and how many volunteers you can mobilize.  Twitter is very news and politics related and is less social than Facebook.  When people are on Twitter, they expect to see news and politics as a main part of the feed.
So who is the winner?  Let us analyze how many followers they have, how many tweets they tweeted, how many times they retweeted a follower, who has the most retweeted tweet, who has the most Spanish tweets, who asked the most questions, who has the most favorited tweet, who had the most replied to tweet, and who has a header image (which allows a chance to brand your message).  We analyzed Rick Scott's Twitter and Charlie Crist's Twitter posts from April 3rd – April 10th at 6 pm ET.  Below is a summary of our findings: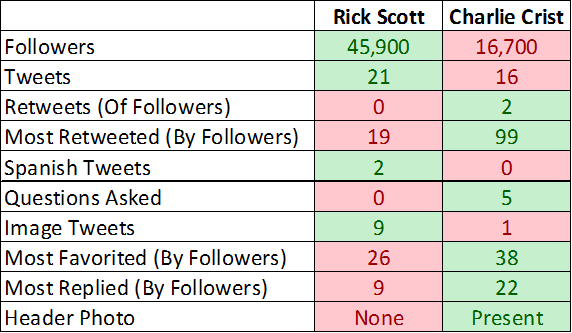 Rick Scott Wins On Sheer Volume
Overall, with 45,900 Twitter followers and 21 posts in the last 7 days he overwhelms Charlie Crist.  Rick Scott has almost 3 times the Twitter followers than his rival. At about $1.50 apiece (the average price of a Twitter follower), Charlie Crist would have to spend  almost $49,000 to catch up to Rick Scott.  This is no small amount of money.
Charlie Crist Wins on Engagement
Even though Charlie Crist has posted less and has way fewer followers, it seems that his followers are more energized.  His most viral post had 99 retweets whereas Rick Scott's only had 19 retweets.  Charlie Crist also asks a lot more questions and retweets his followers which encourages them to engage.  This has helped Charlie Crist to have more favorited and replied to tweets.  Rick Scott does do a good job posting images and does do better than Charlie Crist in that department.  Rick Scott also posted 2 tweets in Spanish, which picked up a little more engagement.
Rick Scott Wins
Even though engagement and tweet strategy is very critical, and it does appear Charlie Crist has more in that department, there is nothing that can be done to surpass a Rick Scott's following that is thrice the size of Charlie Crist.  All Rick Scott has to do is retweet a little more of his followers, especially the amplifiers (people with their own following), Rick Scott should update his header photo (which seems to be missing), and Rick Scott should ask more questions to encourage engagement.  If Rick Scott attacked Charlie Crist a little more on there, he might energize his base a little as well (which is what Charlie Crist did to get 99 retweets).  But Charlie Crist needs to buy Twitter followers.  And in a race where every dollar matters, that is easier said than done, especially if there is a Facebook deficit as well.

Spence Rogers is CEO of Grow to Win Marketing, a
Social Media Marketing Services
provider. Spence is a results-driven and deeply skilled executive who will bring effective SEO, web design, and marketing services to both emerging and established enterprises. With years of experience in management, marketing, and sales, Spence knows what it takes to lay the foundation for profits and incredible return on investment.

Latest posts by Spence Rogers (see all)