Many of our clients have to set up their Hostgator pop3 email settings in order to use their email. This is a quick "how to" to help you get it done.
Setting up Outgoing Mail in Gmail
First, we recommend downloading all pop3 to Gmail. To configure Gmail pop3, go to the top right corner of your Gmail and click on the maintenance wheel.  A drop down menu will show up, click on "settings".  Once in settings, click on "accounts and import".
From there go to the "Sent mail as" section and click "Add another email address you own". Put in your name and new email address provided by Grow To Win Marketing (for our clients). Make sure you deselect the "Treat as an alias" box.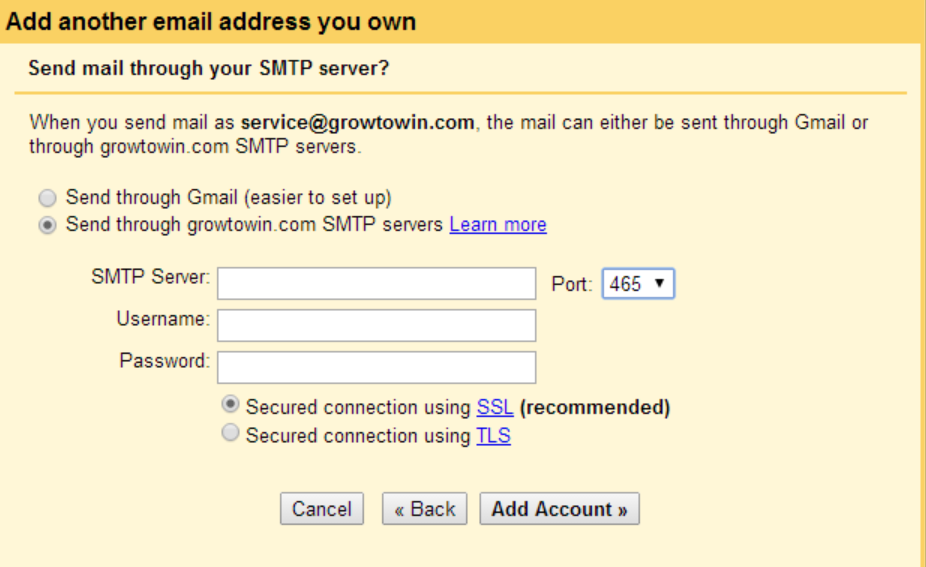 It is up to you on the next step. You can choose to send mail through Gmail or through your own SMTP server.  If you choose your own SMTP server, you will have more control. If you choose Gmail, you will have the benefits of Gmail's server. It is really a preference. For those who choose to use their own SMTP server, here are the settings to enter:
SMTP Server: gator4092.hostgator.com (this may vary depending on your hostgator plan)
Port: 465
Select: "Secured connection using SSL"
That is it. You are all set up on sending mail with your new address. However, you still need to be able to receive mail.
Setting up Receiving Pop3 Mail in Gmail
This section assumes the reader has read the first section above.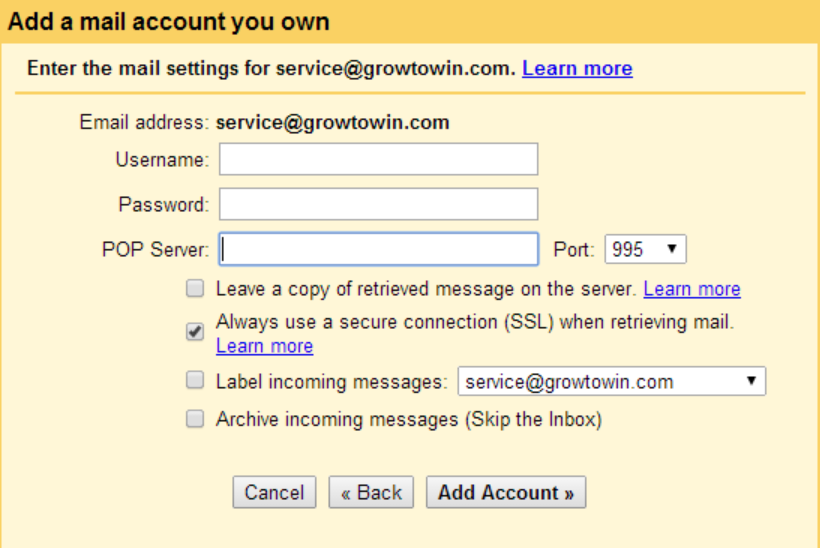 Next, under "accounts and import" click on the "Add a POP3 mail account you own" link. Then type in your new email address – we provide it to you as a client. However, it is usually configured like this: yourfirstname@yourdomain.com.  When the next screen appears, fill it out with this information:
Username: your email address
Password: (provided separately)
Pop server: gator4092.hostgator.com (this may vary depending on your hostgator plan)
Port: 995
Leave all boxes uncheck except "Always use a secure connection (SSL) when retrieving mail. You don't want to check "leave a copy of retrieved message on the server" because it will back up your server with clutter.
Gmail will attempt to send a message to that address, you just need to verify it and you will be all set.
Using Hostgator Webmail
To use webmail, go to https://www.yourdomain.com:2096/
However, make sure the "s" is on the http or it won't go through.  When you put that in your browser, we highly recommend you bookmark it for future reference. It is always good to have webmail available as a backup whenever you lose your phone or Gmail is down (which only happens every 10 years due to some fluke).

When you get to the webmail link, you will get some kind of certificate error.  Click "proceed anyway". Login in the webmail with your credentials. Then click on any three of the webmail interfaces.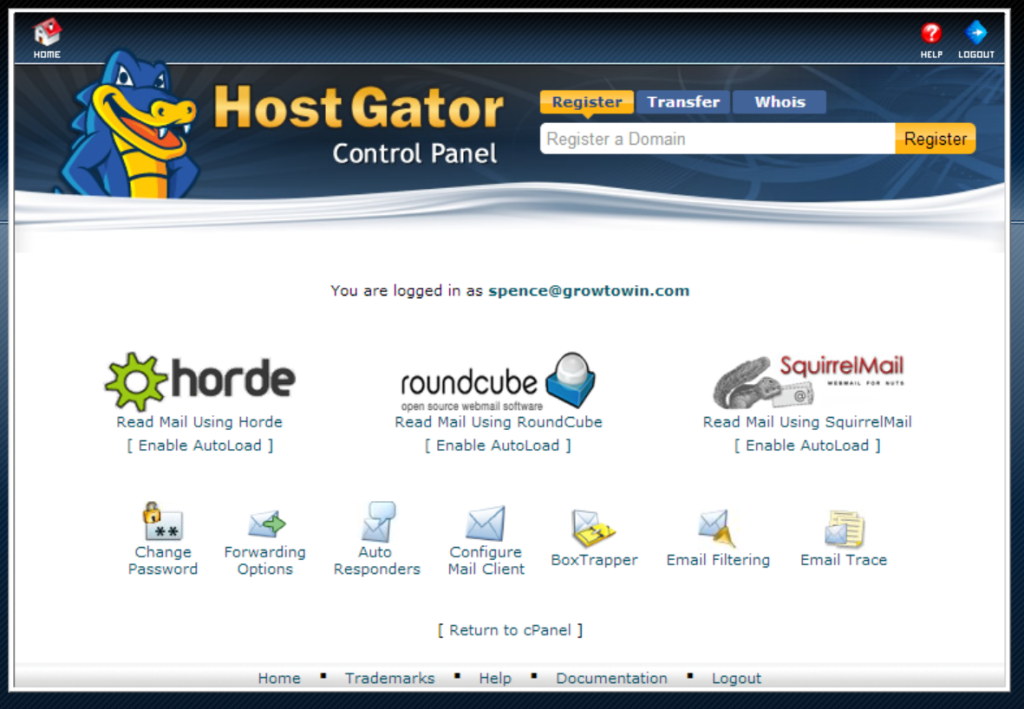 We use Horde but you can use the other two if you prefer. It really is just a preference on which you like more. When you get in, you can send and receive mail as needed. We don't recommend using webmail unless Gmail is down.  Gmail is far more superior than webmail.
Using Other Pop3 Software or Mail Clients
As this is a free market of ideas, different people have different preferences. So if you don't want to use our Gmail recommendation, that is ok too. Some people prefer to download to their iphone's mail client. Other people want to have all their email on their desktop. Whatever works for you. Here are the settings in case you want to set those up. It is the same as above, but in a cleaner format for you.
Username:  (provided separately)
PW:  (provided separately)
Incoming Server: gator4092.hostgator.com (if you are not a Grow to Win client, this will be different for you)
Incoming Port:  995 SSL
Outgoing Server:  gator4092.hostgator.com (if you are not a Grow to Win client, this will be different for you)
Outgoing Port: 465 SSL
We hope you enjoyed this tutorial. Please post your questions below if we left something out or if you need help.

Spence Rogers is CEO of Grow to Win Marketing, a
Social Media Marketing Services
provider. Spence is a results-driven and deeply skilled executive who will bring effective SEO, web design, and marketing services to both emerging and established enterprises. With years of experience in management, marketing, and sales, Spence knows what it takes to lay the foundation for profits and incredible return on investment.

Latest posts by Spence Rogers (see all)